Lastly, I would like to mention a few things other than the race, such as the car I encountered at Fuji Speedway. Thank you for staying with us on the Blancpain GT blog for a long time. This is the last (laughs).
Lambos gathered at Lamborghini Super Trofeo ASIA
As one of the races of "The One Make Race Festival 2018 FUJI Summer" held at Fuji Speedway from July 21st to 22nd, 2018, " There was "Lamborghini Super Trofeo Asia", and many Lamborghini owners came to watch the game.
I met some Lambos on my way to FSW and on the way back. ↓ It seems that the above three cars were touring regardless of this race ... 4 Lambos? I ran in a row. When Lambo gets tired, he says "Oh" and the tension rises!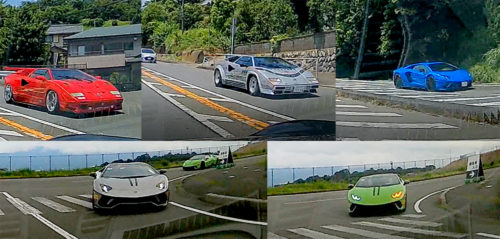 By the way, this is inside the Fuji Speedway paddock. The owner of Lamborghini had a Paddock Pass, so the parking lot behind this building was full of Lambo.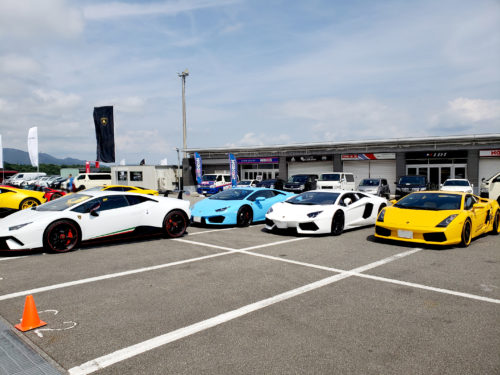 Held last monthIn Ferrari Racing Days, this place is full of FerrariIt was, but at that time, as far as I could see, the whole side was red and yellow and flashy! On the other hand, it was impressive that even in the same Italian car, when Lamborghini gathered, there were more calm colors than "red and yellow".
Depending on the car manufacturer, there are colors that look good / popular colors / corporate colors, so the overall impression is so different.
Yes, and this gold Lamborghini! See you at FSW ... ↓.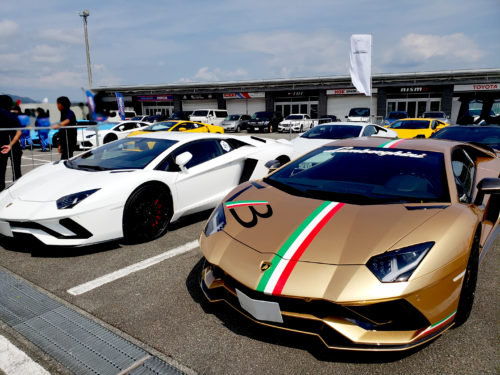 We were tired when we returned to Tokyo on Sunday, so we stopped by Ginza and had a meal on the way back from FSW. After eating, I'm heading to the parking lot. It makes a terrific sound, so I thought, "What's this?" And looked around. Oh oh. board!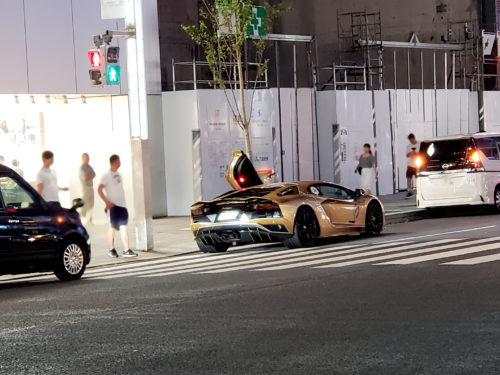 This is Gold Lamborghini, who was at FSW just a while ago, and now he's on the streets of Ginza (laughs). I was surprised by a great coincidence.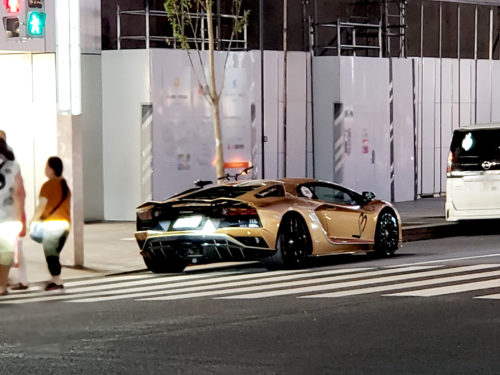 The story is off, but back to FSW ... Three Lambos were also exhibited in the back of the paddock.
This is first "Lamborghini Huracan Performante Spyder: Lamborghini Huracán Performante Spider (640hp / 600Nm, Top speed 325km / h, 0-100km 3.1sec) "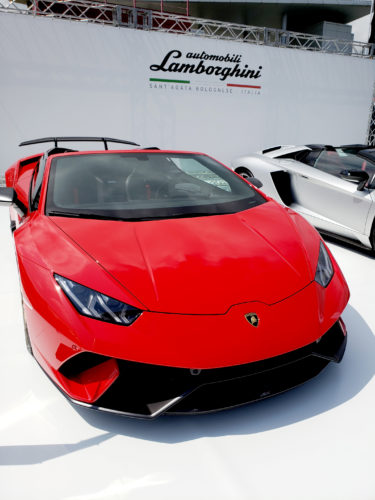 continue"Lamborghini Aventador S Raodster: Lamborghini Aventador S Roadster (740hp / 690Nm, Top speed 350km / h, 0-100km 3.0sec) "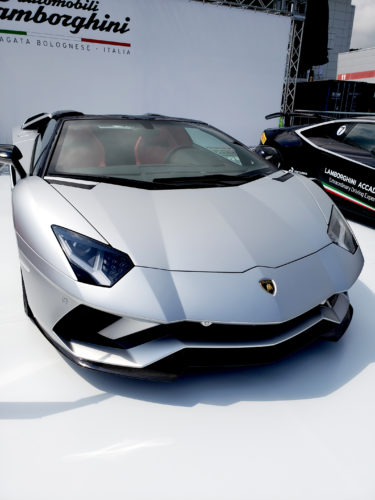 The last is "Lamborghini Huracan Performante Coupe: Lamborghini Huracán Performante Coupe (640hp / 600Nm, Top speed 325km / h, 0-100km 2.9sec) "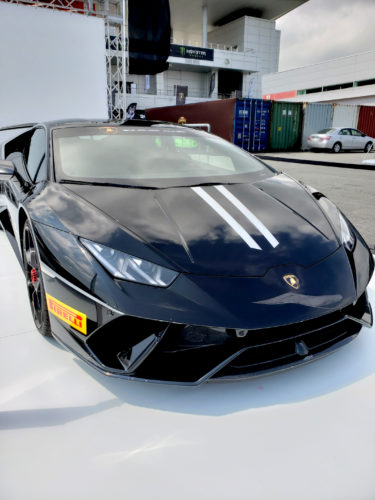 No, Mr. Lamborghini has a feeling of "different", and I think it's really art. beautiful. Still, it's not just "beautiful" but "fast (good performance)", so it's amazing again. When you think about it, why is the design of a fast car so cool?
No, it's the current position as a supercar because it not only has good performance but also has a cool design. After all, Heaven gives people, cars, two or three things (laughs). Rather, this is the result of Mr. Lambo's efforts.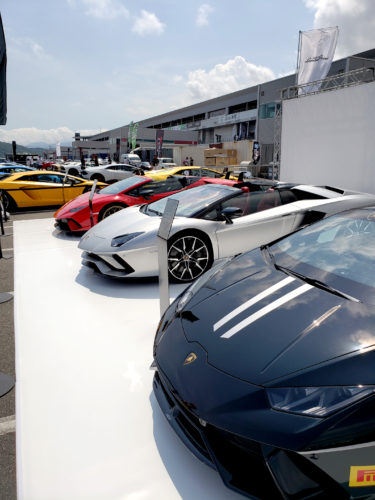 Pagani Huayra stopped normally ...
By the way, Lamborghini and his friends were also amazing, but here is the one that caught my eye.Pagani Huayra (Pagani Huayra: maximum output 730hp, maximum torque 1,000Nm, 0-100km 3.2sec, top speed 370km / h).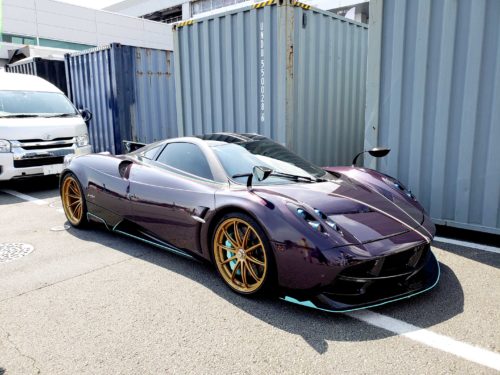 Somehow, such a rarely seen car stopped quietly at the place where "Why is it parked next to such a container again?" (Laughs).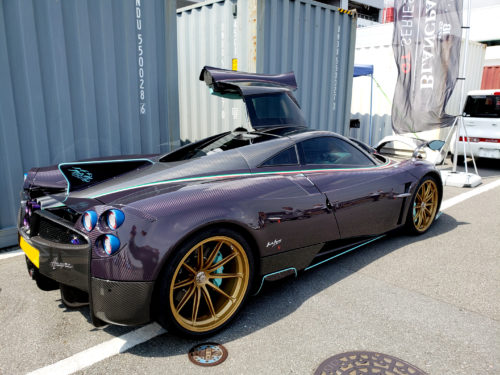 It's amazing! I wanted to see it running.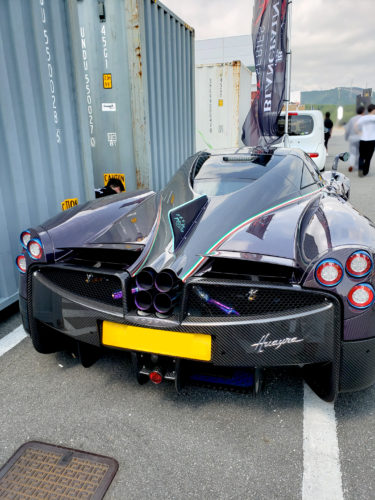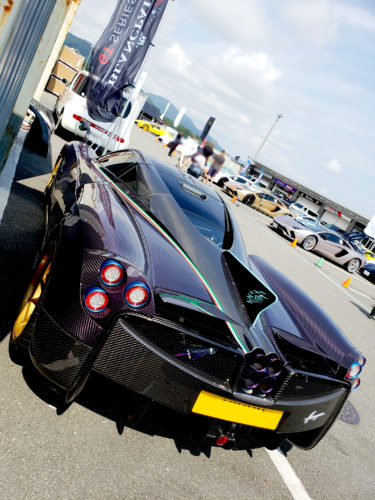 I don't think this side mirror is a car thing. It's already an interior area (← Isn't that art (laughs)?).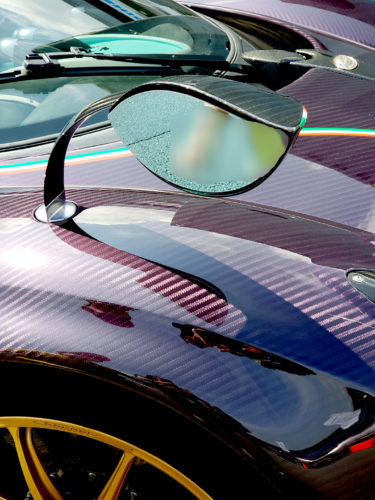 And the other one that caught the eye of people in the parking lot was this BMW. No, the way it shines is unusual (laughs)!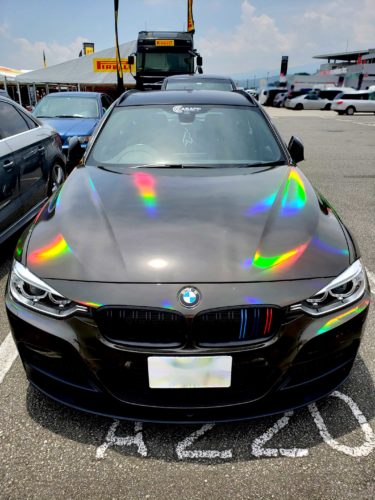 Do you understand? ?? How it shines in this rainbow color. Depending on the viewing angle, this rainbow light changes, and anyway, it's glittering, glittering ...
CarappIt was like wrapping at the place called Mr. There is also such wrapping.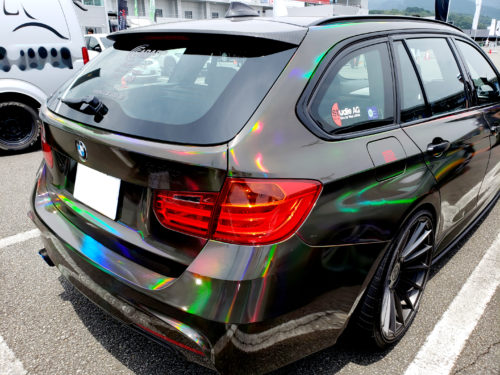 After all, it is not a car, but what I found in the Porsche pit of Blancpain is after allKirkland microfiber(smile). This is really convenient. By the way, it's good to cut the tag before using it (I usually do it ??)!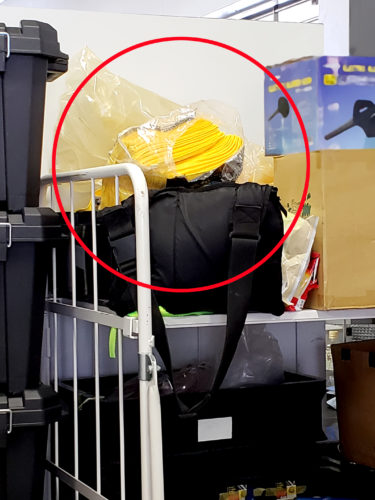 The way back from Fuji Speedway. I intended to leave fairly early, but I was still caught in some traffic.
In such a traffic jam, I've been a little latelyMiami blue that looks like a phantom or mirage when you are tiredHowever, at this time as well, it appears like a mirage that disappears forward (laughs).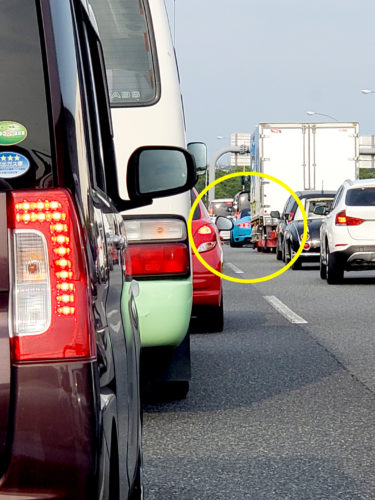 I ran for a while with him all the time, but due to the traffic jam lane at the end, my lane happened to move faster and I overtook Mr. Miami Blue.
From there, the traffic jam was cleared, and I was able to run steadily, and if I was running comfortably ... From behind, this Miami Blue GTS was caught up at a tremendous speed and ran away.
I didn't have the motivation to chase after this day, and I was able to relax and watch the Miami Blue mirage disappearing beyond my sight ... beautiful.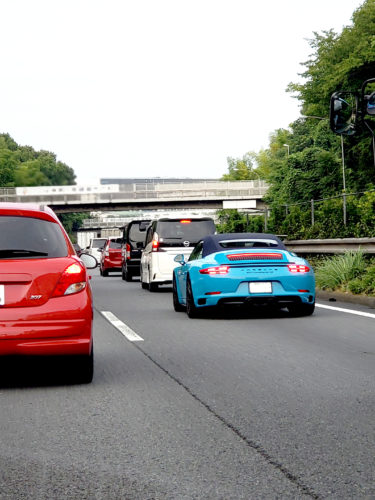 It was a very fun two days. Watching races and circuits that have been estranged for a long time since the birth of a child. When I start watching it for a while, I'm afraid that the atmosphere of this circuit will be so much fun that I'll be addicted to it again ...