Again, I wanted to ride at a little high speed, soLast CostcoFollowing that, there is a little distance from my house and I can use the highway ... and I sometimes go shopping ... So this time I set the destination to "IKEA (Tokyo Bay = Funabashi)" !! (In a place that is almost the same as Costco in Makuhari that I went to before ...
My husband was at home for some reason on weekdays, so he asked me, "Why don't you go to IKEA for breakfast?" is! Well, I'm always grateful to my husband for always having fun with my tactical behavior that I have come up with.
I ran comfortably on the Gulf Line again, and my husband was in the passenger seat on that day, so I was running calmly so I didn't pass the exit (laughs) and arrived straight at IKEA.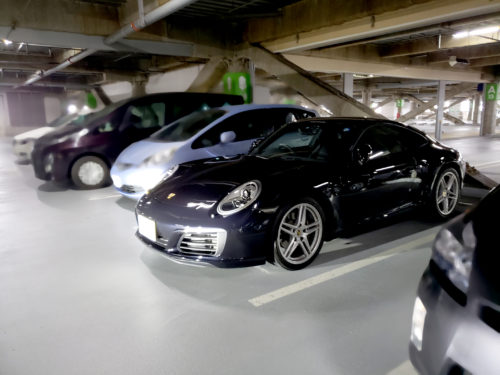 I came to IKEA, but my goal was to "run somewhere", so when I parked in the parking lot, my goal was almost achieved. However, I will enter the store to achieve the other purpose of "breakfast at IKEA".
Obviously, the store is much more vacant than it is on weekends, and the cafeteria is comfortable! … Looking around, the people who use the IKEA cafeteria on weekday mornings were almost like a "mama friend's gathering".
Sure, it's big, it's big enough to bring children (babies and preschoolers), it's cheap, it's a drink bar, and I think it's the best place to get together ... but what's amazing is that everyone drinks from the morning. You are (laughs). Like wine. I'm a little jealous (laughs). Local people (within walking distance) are gathering ... I thought there were various gatherings of mom friends.
Now. It was okay to finish the breakfast + coffee with my husband and go home as it is, but since I came here, I said, "Let's go around the store for the time being, and then go home." I did.
When! !! !! At IKEA, various rooms are created and exhibited like model rooms, and one of them has a setting like "around the desk, which is my dad's hobby." This was the only thing that caught my eye when I was walking around IKEA! !! !!
so! A plastic model of "Urakan" on the upper right! !! !!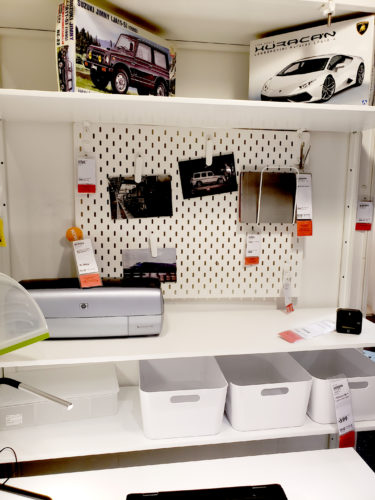 Oh oh. It's hard to come across Urakan at IKEA (laughs). Daddy on this setting seems to like cars.
Ah. If you think about it, it's not necessarily your dad's desk! !! The desk with the desktop for my work at home is decorated with a calendar month (desktop) with my favorite photos of Ferrari and McLaren from the dealer, and 911. And there are GT3 and BMW minicars (laughs). It could be a mom's desk (usually not so much (laughs) ??).
This is the IKEA exhibition desk, the 1995 Suzuki Jimny on the upper left, and the postcards that are attached are thought to be Mercedes G class.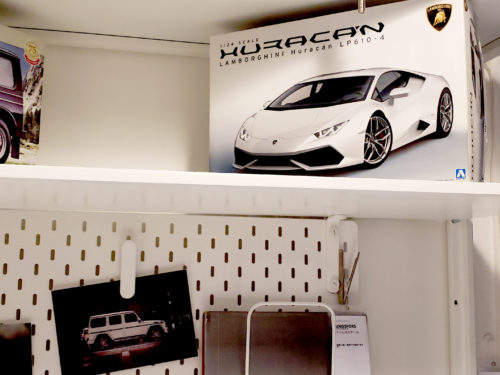 Normally, I would try to pick up IKEA products in these places, but of course I pick up Urakan (laughs). Well, I think it's natural, but since it was an empty box, I wonder if the IKEA clerk made a favorite one. I wanted you to display the finished product as well.
By the way, the way back for the purpose of "running" again. Since my husband is with me, I decided to go back via Rainbow Bridge because I said, "On the way back from Costco, I'll take a different path from what I was told in the navigation system!"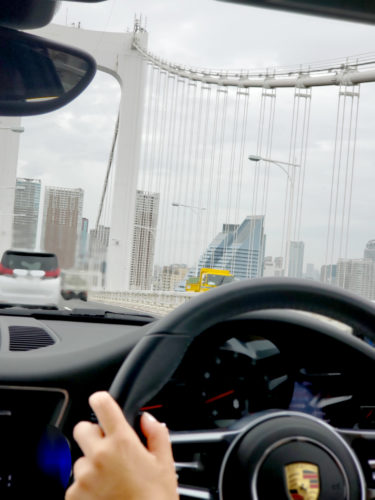 Ohhhhh, Rainbow Bridge! No, the Rainbow Bridge itself has crossed countless times, but this is the first time I've crossed it by my own driving ... (So I'm taking a commemorative photo (laughs)). No, I wasn't really good at highways in Japan, so I didn't run at all ...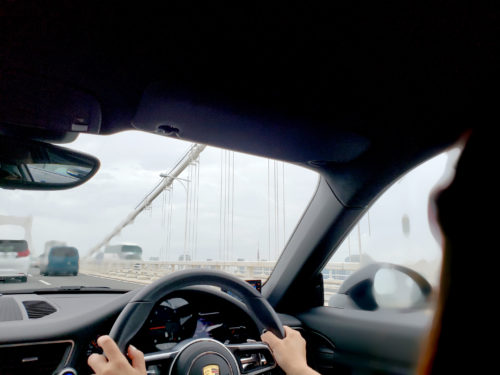 No, but I was a little impressed! The day will come when I will cross the Rainbow Bridge myself. While passing through Shibaura PA, I was thinking, "Isn't it bad if I can come to Shibaura PA by myself?" (← I think I'll play more (laughs)), but I ran back happily. did!
By the way, I could run at high speeds in the United States without any resistance, so I ran a lot, and even now I can run hard even if I go on a trip (If you write it correctly for those who understand, it is a high speed in the United States. But Manhattan's FDR Drive is similar to Japan's Metropolitan Expressway, so I can't run as well (laughs)) ... but this Tokyo Metropolitan Expressway (especially C1 and C2) is really scary, so I avoid it anyway. I will.
But again, I'd like to get used to it by trying to run at high speeds like this.
I'm planning to drive a little further in the near future, so I'm looking forward to that day first!