Finally, I will post about the specifications etc. posted with this 488 Pista.
This is what was posted.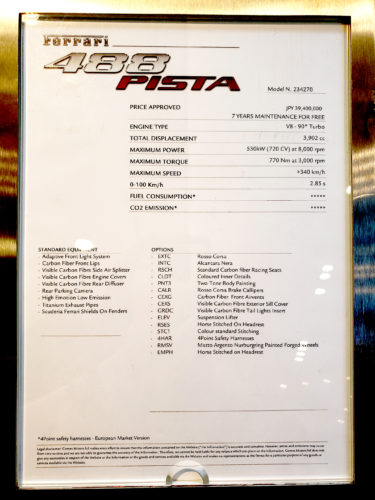 The contents are as stated below.
Ferrari 488 Pista
Price Approved: 39,400,000 Yen (7 yrs maintenance for free)
Engine Type: V8 90 ° Turbo
Total Displacement: 3,902cc
Max Power: 530kW (720 CV) at 8,000rpm
Max Torque: 770 Nm at 3,000 rpm
Max Speed:> 340 km / h
0-100km / h: 2.85 sec
Standard Equipment:
--Adaptive Front Light System
--Carbon Fiber Front Lips
--Visible Carbon Fiber Side Air Splitter
--Visible Carbon Fiber Engine Covers
--Visible Carbon Fiber Rear Diffuser
--Rear Parking Camera
--Hgh Emotion Low Emission
--Titanium Exhaust Pipes
--Scuderia Ferrari Shields on Fenders
Options: Options:
--EXTC: Rosso Corsa
--INTEC: Alcantara Nera
--RSC: Standard Carbon Fiber Racing Seats
--CLDT: Colored Inner Details
--PNT3: Two-tone Body Painting
--CALR: Rosso Corsa Brake Callipers
--CEXG: Visible Carbon Fiber Exterior Sill Cover
--GRDC: Visible Carbon Fiber Tail Lights Insert
--ELEV: Suspension Lifter
--RSES: Horse Stitched on Headrest
--STC1: Color Standard Stitching
―― 4HAR: 4 Poinst Safety Harnesses * European Market Version
--RMSV: Matto Argento Nurburgring Painted Forged Whieels
--EMPH: Horse Stitched on Headrest
After that, there was this exhibition in Mr. Cornes Shiba. What! At the Ferrari Challenge of Ferrari Racing Days, Cornes Shiba customers won the 3rd place! So, the shield etc. were exhibited here. very! !! I think this prize was already a moving and moving prize for everyone at Cornes Shiba. The excitement and excitement of the race was something that couldn't be expressed in words anymore! !!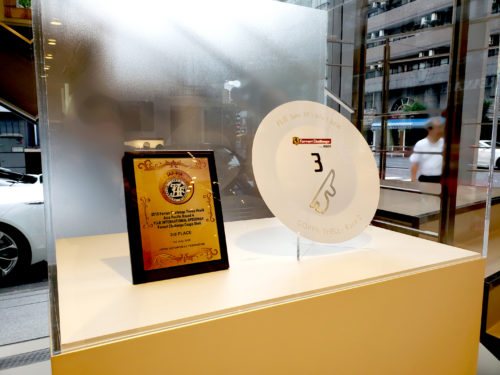 It would be great if customers could decorate the showroom like this! !! Somehow, I felt happy that I could see such a wonderful relationship as a sense of unity between Cornes and the customer's "family".
Also, on that day, the blue California T was on display next to 488 Pista. This color is beautiful! And the image really changes just by changing the color. It's hard to believe that it's the same car as my home.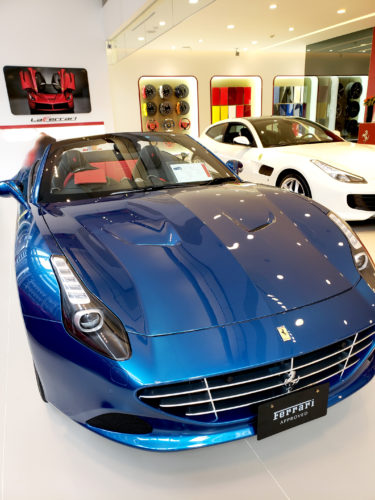 The interior was quite flashy ... amazing…. I love the dark blue of this beautiful Ferrari and the white interior, which is my hobby! !!
The rear is also different in color, it looks like a really different car. It's calm and nice.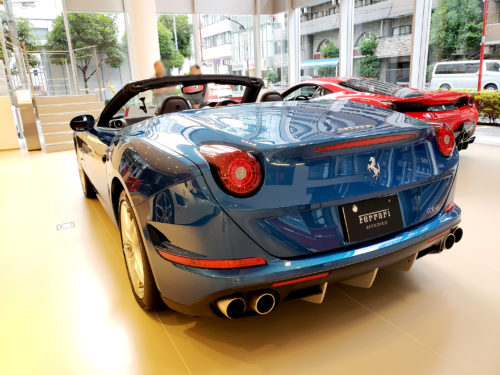 Anyway, I was impressed to meet 488 Pista on this day. I was excited from the morning saying "I can meet you today!", So I was really happy to meet him! It was too cool. With this,Ferrari Racing DaysBut I have nothing to regret (laughs). Thank you, Mr. Cornes! !!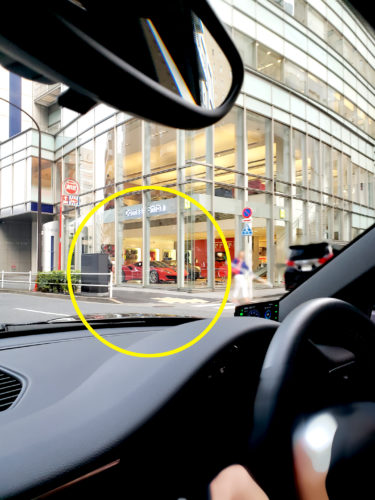 Finally, look at Mr. Pista from the outside and say goodbye. From this evening onward, this pista seemed to be able to go on a nationwide pilgrimage ...
And finally one more. I took the children to Pista's tour on that day (I try not to take them to any showroom as much as possible, but when I can't help it), I always take them. I'm telling them that they should never touch the car ...
On this day, I was so impressed with the 488 Pista that my eldest daughter wanted to see it, so I said, "I can't touch it, but I'd like to see it closer." I was looking at it from the front ...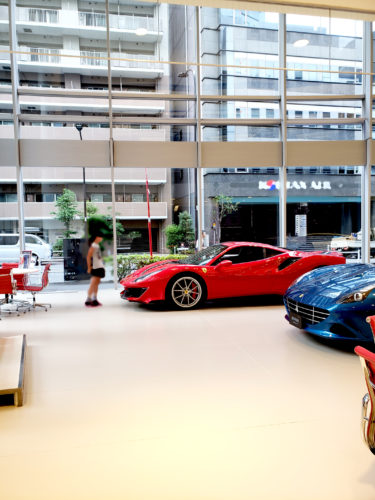 When I saw that figure, I thought, "Oh, my child may end up looking at the car forever like me and thinking" happy "...". I hope that in the future I will be able to get the car I want, but before that, I sincerely hope that I do not want to be a woman who wants a supercar such as a boyfriend.
… Aside from that. 488 Pista, I'm glad to meet you! Thank you, Cornes Shiba, for giving us such a wonderful opportunity. Thank you! !!